London Fashion Week | Day II
LFW | Day II | Getting Into The Fashion Week Groove!
If you missed Day I, catch up here!
By Day II I knew where the venues were, I had sussed out the best coffee spots for recharging my phone and my caffeine levels, and I wasn't so overwhelmed when the photographers actually wanted to snap ME?! (On Day I, I just kept thinking, "do they know I'm nobody?)!
If you're a fashion fan, and adore seeing creative, stylistas do their worst, then you will literally LOVE the buzz on the streets before and after a show. The shot of me above, by Alan Watson, was taken right after the first show of the day - Unwinding India, at Freemason's Hall (show footage below). You can see the stylish, sartorialists in the background, rocking the white boot trend or a column of colour (red). And this was a quiet spot, picked especially to let my Christopher Kane rainbow shine brightly!
My white Stella McCartney heels were a fab, fresh foil to all that colour, and I loved that both pieces were by British Designers (and one a Scot, no less)! Incidentally, I didn't wear the heels all day! I sneaked my sneakers into my backpack for running around between venues! Notice too, that the talented, super-friendly, Scottish stylist, photographer and fashion journalist, Brian James [@brianjamesstyling], captured these 2 great shots of me AND complementary fluoro van and pink taxi in the background - stylist extraordinaire indeed!
Fashion Week Survival #Tips below… But First, F A S H I O N !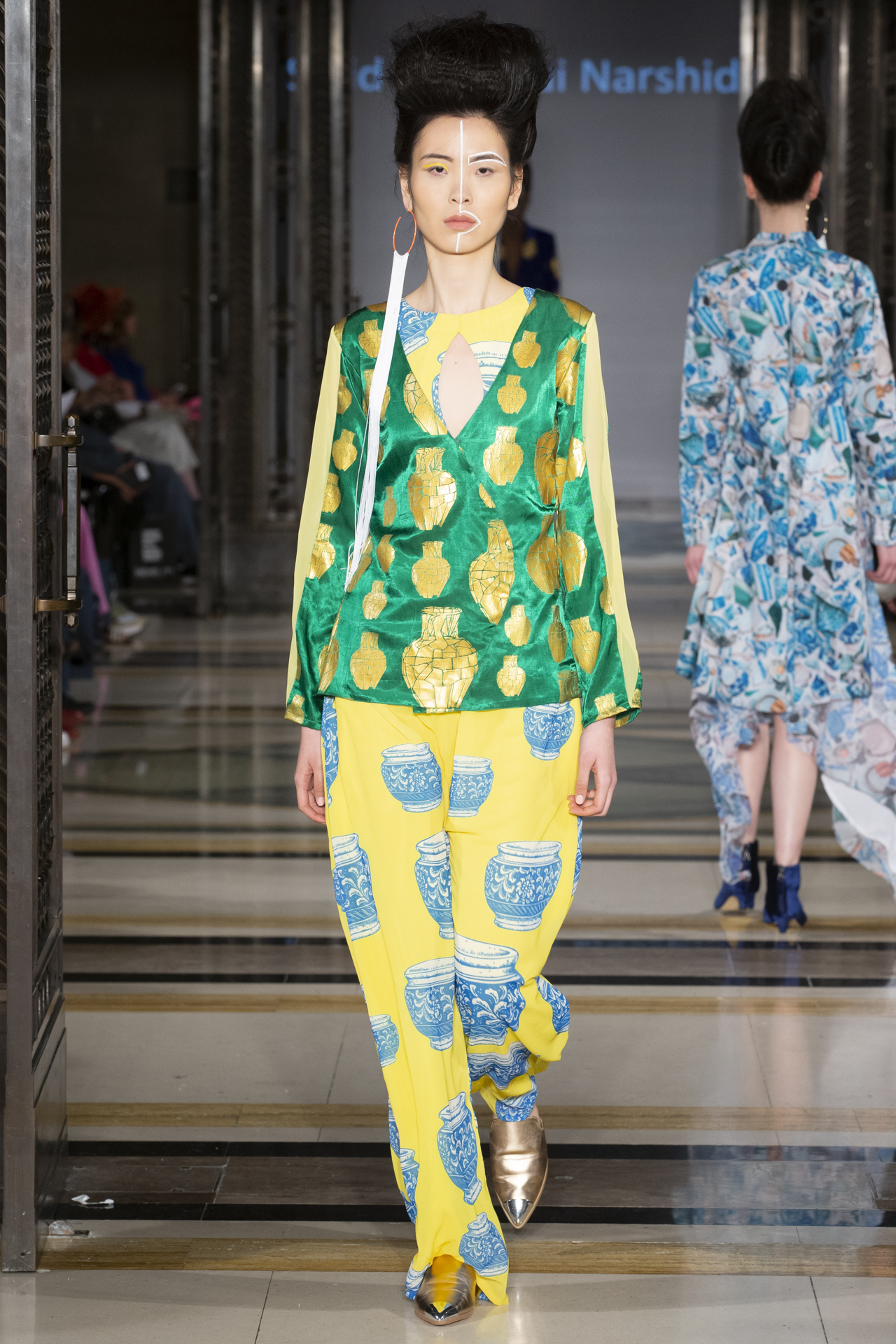 This collective of designers showcased colour and creativity in equal measure.
Here's my pick of the best looks from each show…
Photo Credit: Simon Armstrong
Photo Credits: Simon Armstrong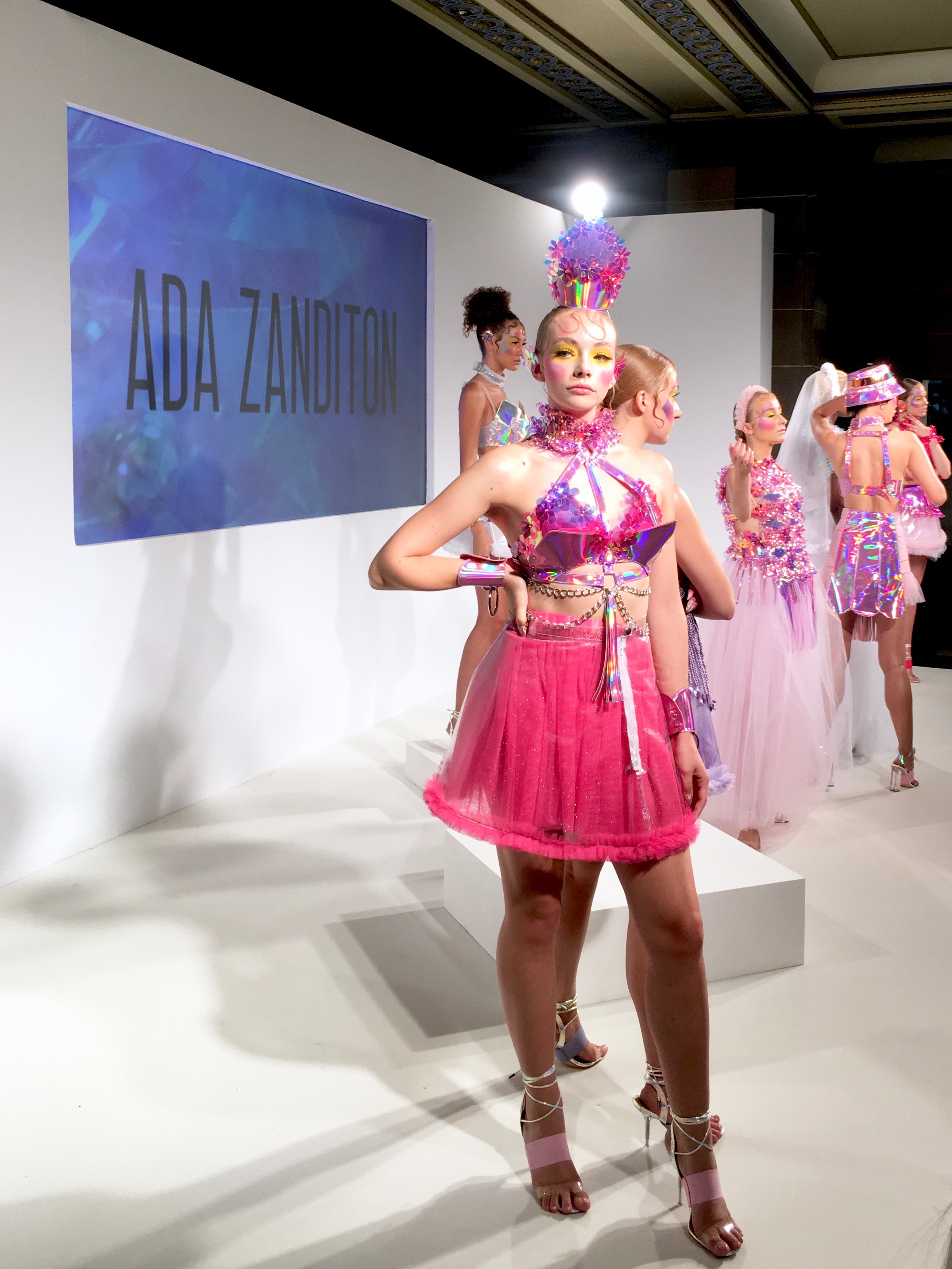 Next stop, the Ada Zandition accessories presentation, where popping pinks and purples were coupled with iridescent florals, metallic fringing and chain harnesses. There was a harmonious symmetry to the pieces that countered the sheer outrageousness of some, and made for an accessories collection NOT for the faint of heart.
Colour lovers unite!
Photo credits: Simon Armstrong
Graffiti prints in every shade, from sky blue and jade green to powder pink and yellow, were splashed with bold black strokes that recalled an almost-forgotten, 80s, graffiti aesthetic of my childhood t-shirts and dance-wear.
Overlapping layers and elements of deconstructed shirting created a collection that screamed comfort, clashing patterns and colour - bring on those lazy, hazy, crazy days of summer!
Photo credit: Simon Armstrong
Photo credits: Simon Armstrong
Shoes, shoes, boots and more shoes!
Embellishment reigned supreme at this footwear collection. Sparkles and jewels, together with lush velvets and pearl-adorned heels were paired with carefully-sourced suedes and leathers in a pretty and wearable collection for a bit of everyday luxe.
This collection of head-to-toe bejewelled looks, soft tulle gowns and rich geometric patterns was a magpie's delight. That is to say, it was a piece of me!
I've highlighted my favourite look from the show - a column of jewels in brilliant blues, featuring matching, edgy, over-the-knee boots and studded dog-collar-style choker! It even comes in menswear too - see below for more of this fabulous, fantasy fashion-fest!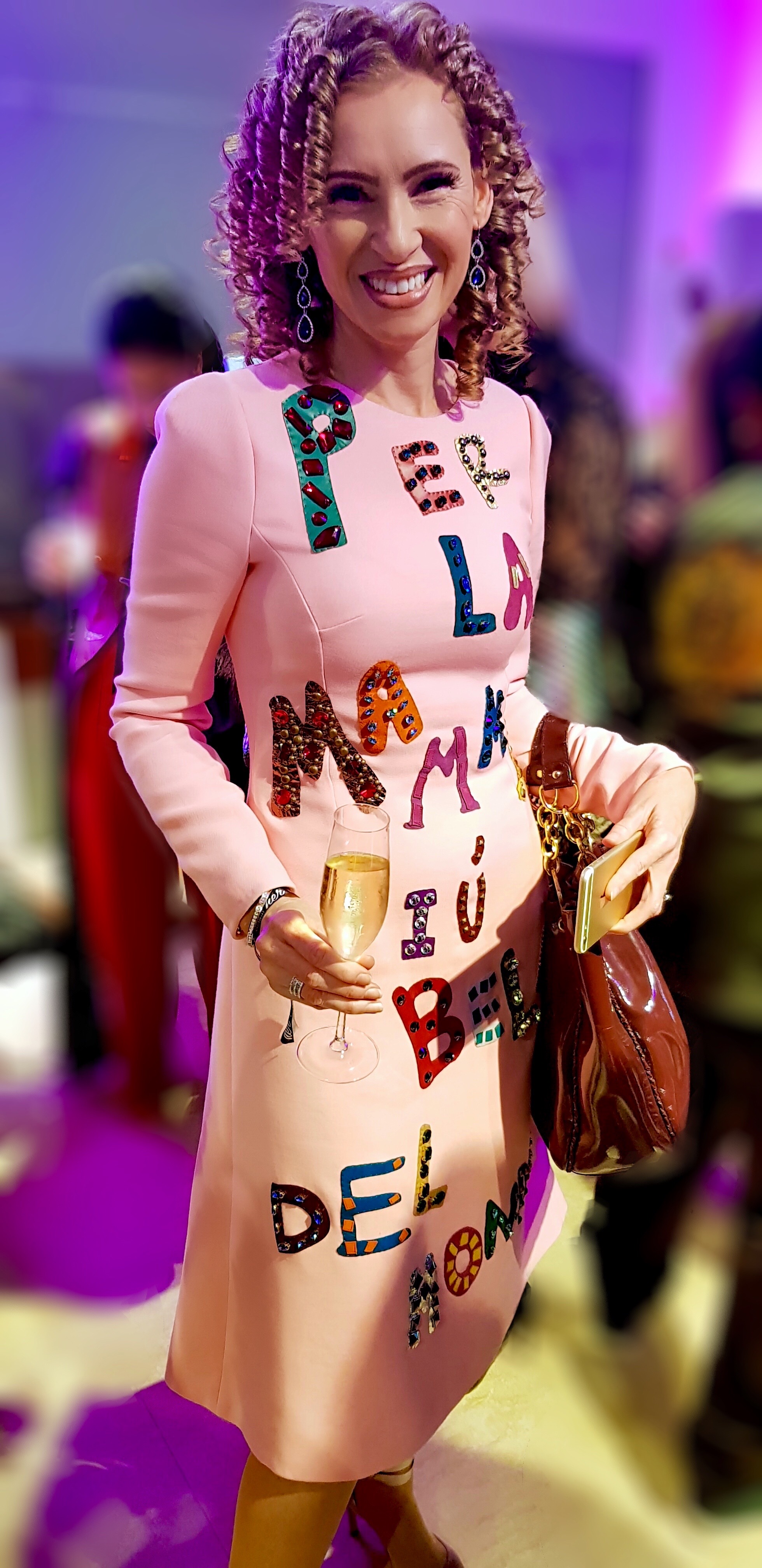 With our hotel just a short hop along the Central Line, I took a breather and went back there to shower and change before the late shows and events.
It was the perfect occasion to road-test my new Dolce & Gabbana dress, which was a hit with the street style photographers, snapping invited guests as we arrived for the Her Runway champagne reception and runway show at Aston Martin on Park Lane [show details below].
Meeting my hubby and sister-in-law for a late steak dinner at The Hawksmoor was a delicious end to a fun-and-fashion-filled day.
Photo credit: Tola Onigbanjo, @wisetola
After the pre-show drinks, a collective of female designers from around the world, showcased their work at Aston Martin Park Lane.
Despite having a front row seat, I shot mostly slo-mo video, so my stills are a little grainy.
Thanks to Simon Armstrong for the crisp, clear shots he captured of this plethora of colour, pattern and texture.
For full details of the designers, and all the looks from the show, please visit Her Runway.
Enjoy my favourite looks below…
Photo credit: Simon Armstrong
Photo credits: Simon Armstrong
tip #5: bring enough business cards!
It was Day II, at my first coffee break when I realised I was getting low on cards. Luckily I tend to stash them in my handbags, so I stocked up at the hotel, but it's worth being sure if you're hoping to network.
Tip #6: if you miss tip #5, get shot with your card!
It's impossible to catch every street photographer who snaps your picture, but where possible, say hello, introduce yourself and get them to tag you when they post your picture. Holding up your business card will help them remember you!
Photo credit: Jim Nemer @jimnemer
tip #7: Before each show, shoot this…
If you're going to be shooting the runway looks, make sure you start each show with a shot of the ticket or show notes so that when you review your footage later you'll instantly know which looks are from which shows. Trust me on this, you WILL forget!
Although there are many venues chosen for shows and presentations, much of the action takes place around The Strand. It goes without saying, if you can stay nearby you will save heaps of time and even get the chance to nip back to your hotel room evening events, as I did on Day II. While Bethnal Green/Hackney is cool [as this charming local graffiti depicts!] and only a few stops along the Central Line, I would try to find a closer spot next time.
Phew! Day II in the bag, finally. The editing and collating of my myriad images and video content has been a little overwhelming and has taken longer than I ever thought possible! Please let me know if you're enjoying this summary of my LFW experience by leaving a word or two in the comments. Don't forget to check back for Day III, coming soon…
Thanks
Nx