Ruffle Some Feathers
How to be fearless in feathers, the trickiest trend of the season!
Nothing says whimsy quite like feathers! When life gets too serious and things seem hopeless or unfair, wearing feathers won't solve your problems, but it will cheer you up!
It was Elsa Schiaparelli who said, "In difficult times fashion is always outrageous". Well, times must be downright dreadful, because our S/S18 catwalks were adorned with startling statements - transparent plastic and vinyl, crazy crayon colours and extraordinary textures in the form of fringing, ruffles and, most notably, feathers.
From black Swan style coverups
at Saint Laurent, to feminine, marabou hems on silky, slip dresses at Marques'Almeida, designers were clearly having a lot of fun with feathers.
But is it a viable, wearable trend for us mere mortals? Or is it simply the preserve of privileged, red-carpet princesses and catwalk shows? I say "No!" Why should they have all the fun?
Either way, here's my guide to rocking a pop of plumage this season!
Pick Your Palette
This Zara feather skirt is easier to wear than you'd think. In tones of blue and white, it isn't a difficult colour palette to style, so half the work is done for you. Here, I've added a fitted, patterned jacket in similar colours, to tame the feathers and create a harmonious, pulled-together outfit.
Block Party
Below you can see the effect of block colour pairing on the fanciful feather skirt. Whether you pick the base note of navy, or the freshness of white, blocking simple, self-coloured pieces really tones down the frippery of the feathers!
Down Comforter!
If you want to test the water, but you're a bit unsure, find an everyday, comfortable piece to pair with your feathers. This oversized sweater covers most of the feathers and feels familiar and utilitarian, so the feathers can simply flutter beautifully underneath.
Complement and contrast
Layer pattern, tone and texture to create visual interest beyond the feathers. This patterned, wool jacket is warm and textured, while the sleeveless trench is slick and waterproof - both contrast beautifully with the playful impermanence of the plumage.
Go nautical!
Pairing with a sensible stripe helps offset the whimsy of feathers. A simple Breton is perfect here, as the colour palette is already on point.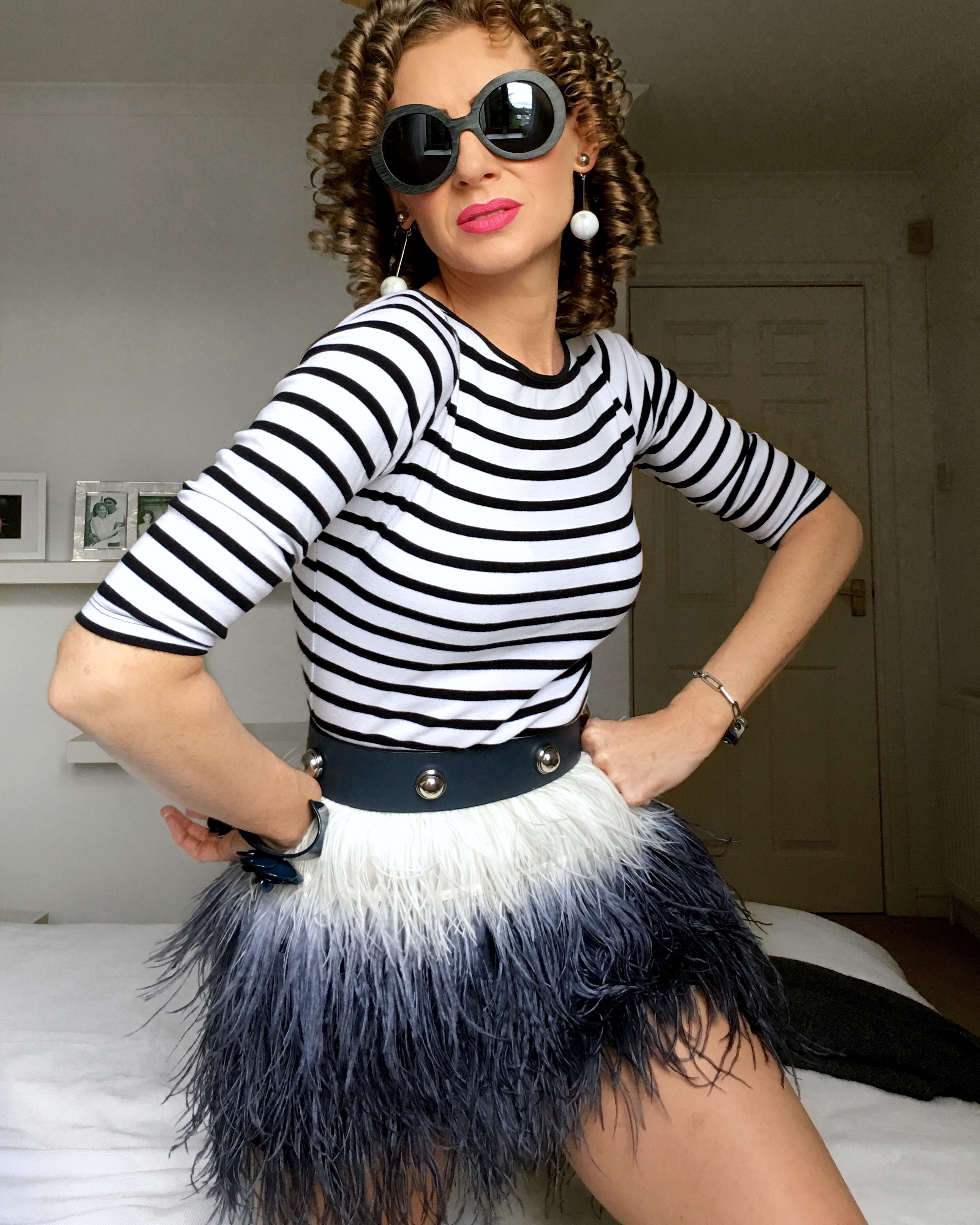 Weather-appropriate
Adding a dark-toned blazer or sleeveless trench, as below, cuts across the horizontal stripes and helps pull the look together for wearing outdoors. Similarly, keeping the tonal palette paired down with these sober workwear staples helps to 'legitimise' the feather fun. It's practically office-ready!
Smarten up!
This sleeveless trench worn over a collarless blazer reminds me of the school teachers who used to wear graduation-style robes in the classrooms and corridors. I'm convinced they were just trying to appear more authoritarian, so I'm trying it out here to 'smarten up' my plumage!
Disco-date-night-ready!
Ok, that's enough of being sensible - now I'm going all-out nuts with a leather bustier, a technicolour dream coat and a pile of purple plumage! After all, fashion is supposed to be fun and wearing feathers is guaranteed to raise a smile!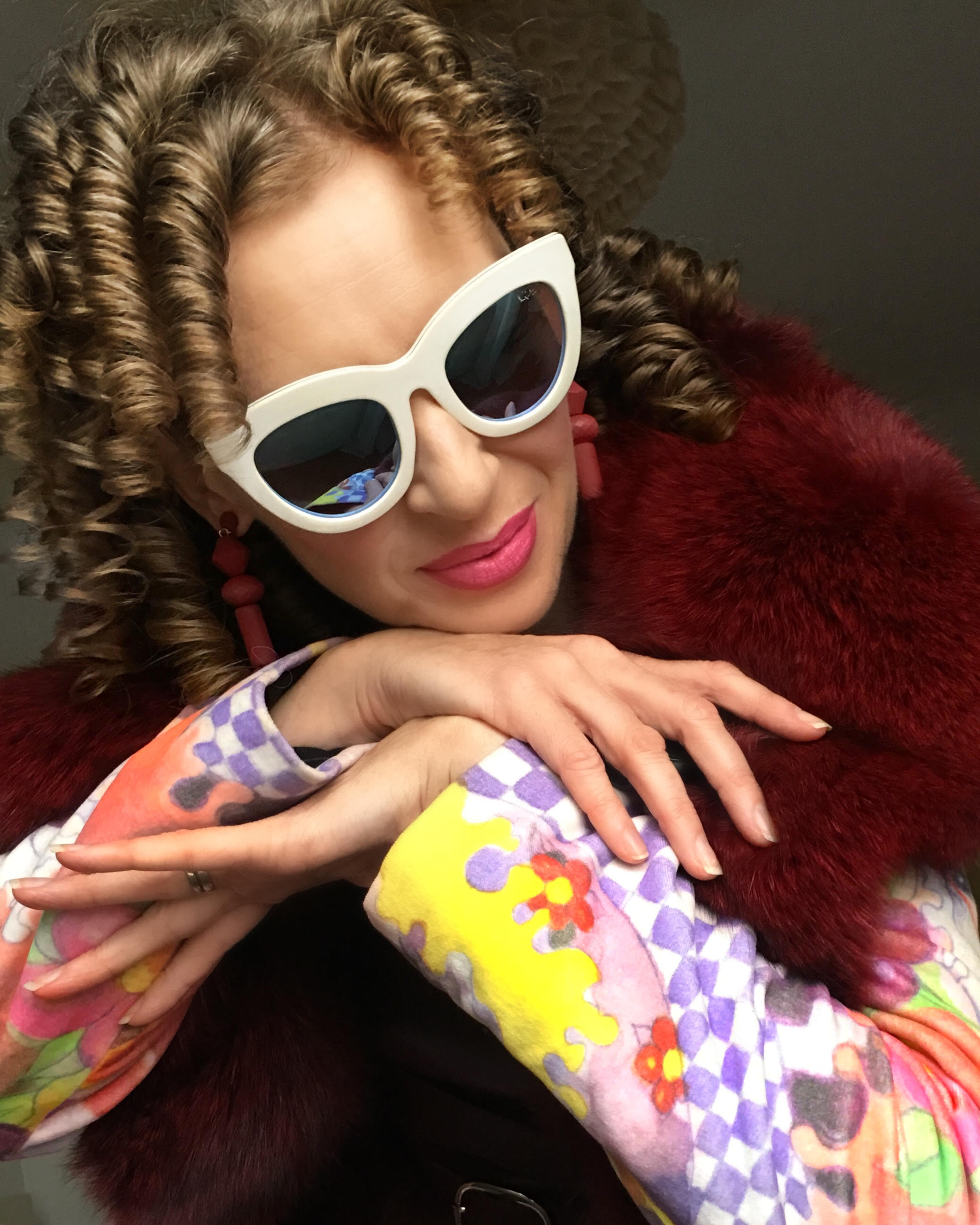 ~ Click to shop the best high end and high street feathery finds ~
So what's the verdict? Will you wear feathers this season? Let me know in the comments.