Style for [Night] Life
Many people tell me they struggle to create cohesive outfits, so I selected 3 classic occasion-types and describe how to style a look for each.
This time it's all about subtle sexiness - achieving a date night look that will make you feel a million bucks, without having to spend that much! [If you missed Part I -The Casual Coffee Meeting - catch up here].
In association with Isabella's Wardrobe, with special thanks to Radisson Red, Glasgow for their hospitality and gorgeous venue. Shot by John Murray.
Creating a Killer Look
A bodycon dress is the hero piece you need to knock 'em dead on date night. V-necked, but not plunging, short-sleeved but not naked, this deceptively demure Victoria Beckham dress is subtly sexy. It reveals your curves without revealing lots of skin. After all, whether you're single or attached, the dating game is an artful little dance, and you wouldn't want to show them all your best moves up front, right?
Colour-blocked in royal blue and black, the fabric is simply magic-making! It sucks you in and creates curves you never knew you had! It needs very little styling beyond killer heels and statement earrings. And this is the key takeaway in terms of Styling 101 - pick the right hero piece and let it do all the work for you.
Now you may be thinking that only 'skinny minnies' can wear bodycon looks. I really don't think that's true. If you buy the right size (ignoring the numbers on the tags), add some comfortable figure-enhancing undies and choose the best fabrications you can afford, you can rock a figure-fitting look no matter your size. I follow some luscious, plus-sized ladies who style their figures beautifully. Take time to choose a flattering, joyful colour. Invest in good leather shoes and handbags (remember quality over quantity here), look for pretty statement accessories, like chandelier earrings or eye-catching necklaces, and then get your glam on!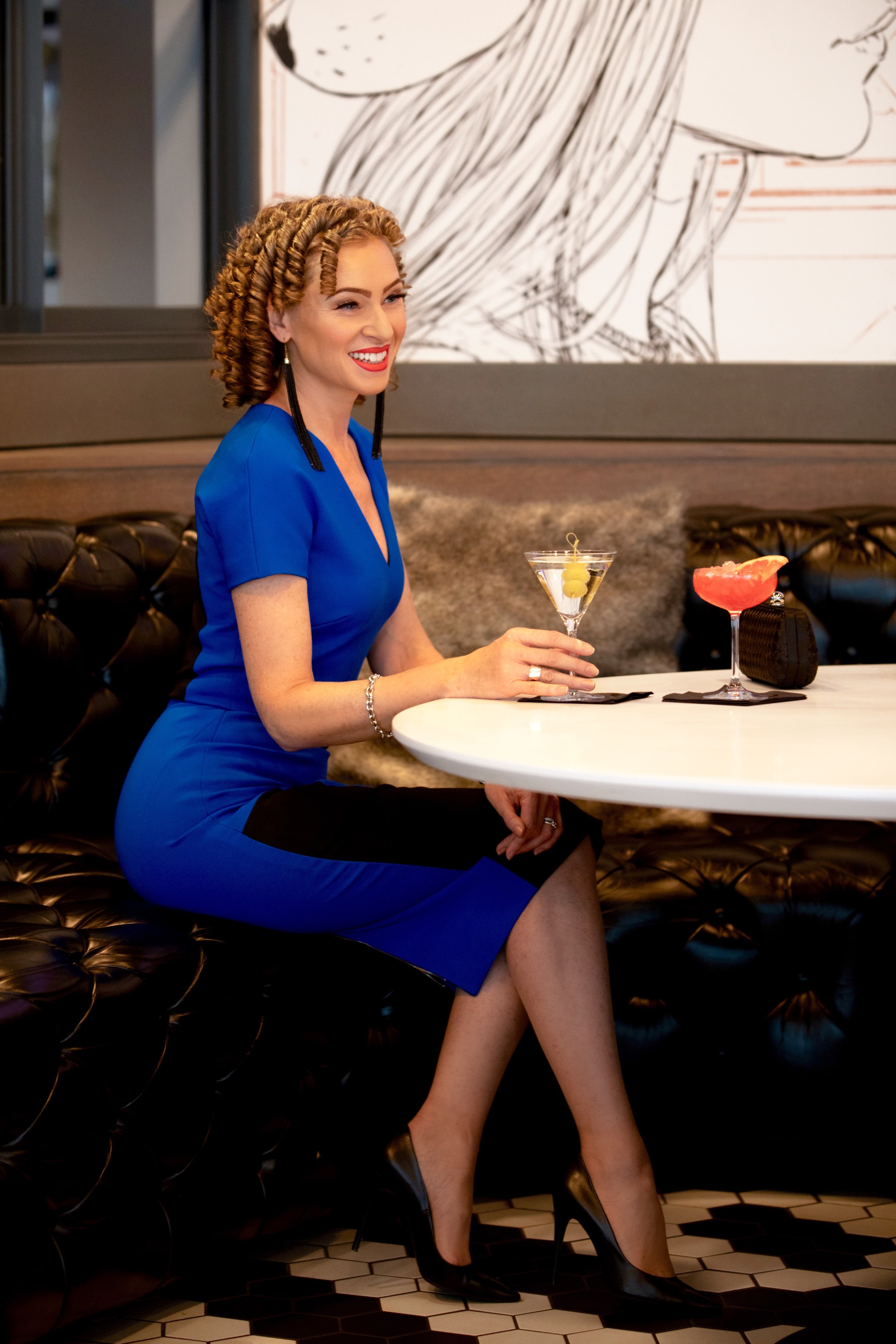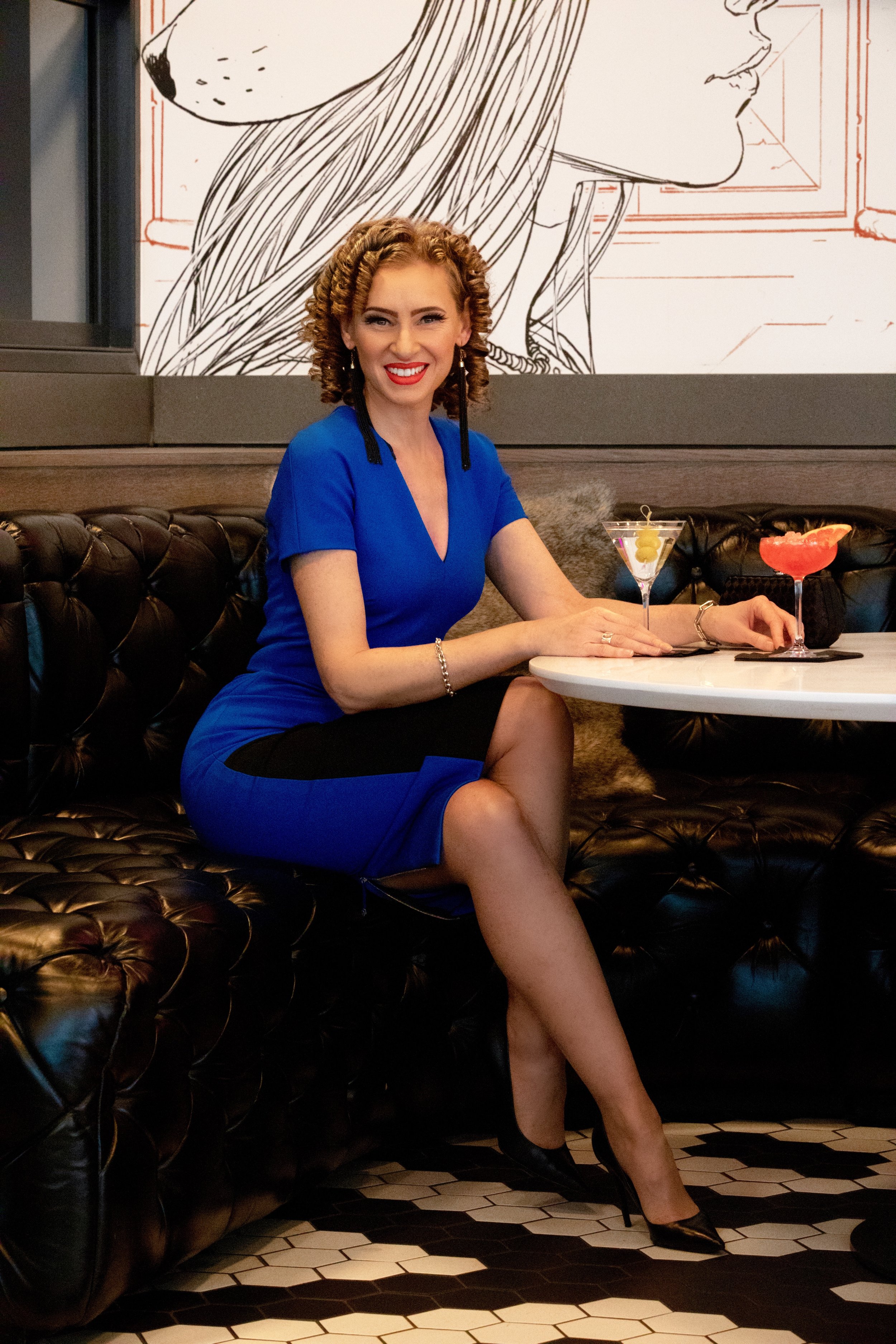 The Sky Bar at Radisson Red, Glasgow, is one of the few roof terrace bars in the city - and it doesn't disappoint! Delicious cocktails, afternoon tea and nibbles, fabulous river views and only a stone's throw from some of the biggest concert venues and city attractions. Why not add Radisson Red to your bucket list and sample Glasgow in style?
Style Tweak
Raise the zipper at the back for a thigh-high split if your date deserves it!
Hey Nikki, who's your mystery man?!
Click to shop the this one-off Victoria Beckham dress at Isabella's Wardrobe, these classy black stilettos at Zara and these beautiful statement-making earrings at Latelita.
Andy was such a good sport! [Follow him @andyhamphotography]My photographer, John, approached him on what we thought was a date, to be my 'fake date' for the shoot… turns out he and his gorgeous lady friend were in fact shooting together too! Quite the coinkydink… or maybe not in this Insta-world we live in!
Dinner dates are a fun time to dress up and escape into a romantic haze. Whatever you wear, enjoy yourself!
Thanks for reading!
Nx