Endless Summer Nights...
Part III: City Slickin' Summer Style
In case you missed them here are Parts I and II.
With special thanks to Peacocks
There's a not-so-subtle difference in the way I pack for a summer city break, versus a beach escape. I learned early on, after experiencing the sidelong looks of disapproval from Barcelona's cognoscenti, that European city dwellers retain an elegance and grace under the blistering heat that, sadly, us Brits often struggle to perfect! I have 3 words: Socks And Sandals... and I don't mean the fashun trend!
The Pretty City Style
As an architecture student, on a study trip to see and experience the stunning architecture of Gaudí and Mies van der Rohe back in the 90s, my friends and I would blithely roam the streets (even at night) in short skirts, with bare legs and crop tops and all the fun, frivolous styles that look great at the beach but, when transported to a chic city, can command a less than flattering double-take! As we noticed this, we also couldn't help but see that those giving us these looks were wearing hose, even in the 30 degree heat!
Under Wraps!
Ever since, I've taken a relatively demure, covered up approach to summers in the city. Enter The Jumpsuit! The perfect answer to hot, summer nights in a stylish city. This tropical print piece from Peacocks is a lovely option. It's super-comfy and lightweight, it doesn't wrinkle and the print is bang on trend. Now you might be thinking that jumpsuits are difficult to get in and out of... Well, I'm happy to report that the single button at the back, cutaway straps and elasticated waist make this an easy-peasy jump-in-and-out-suit!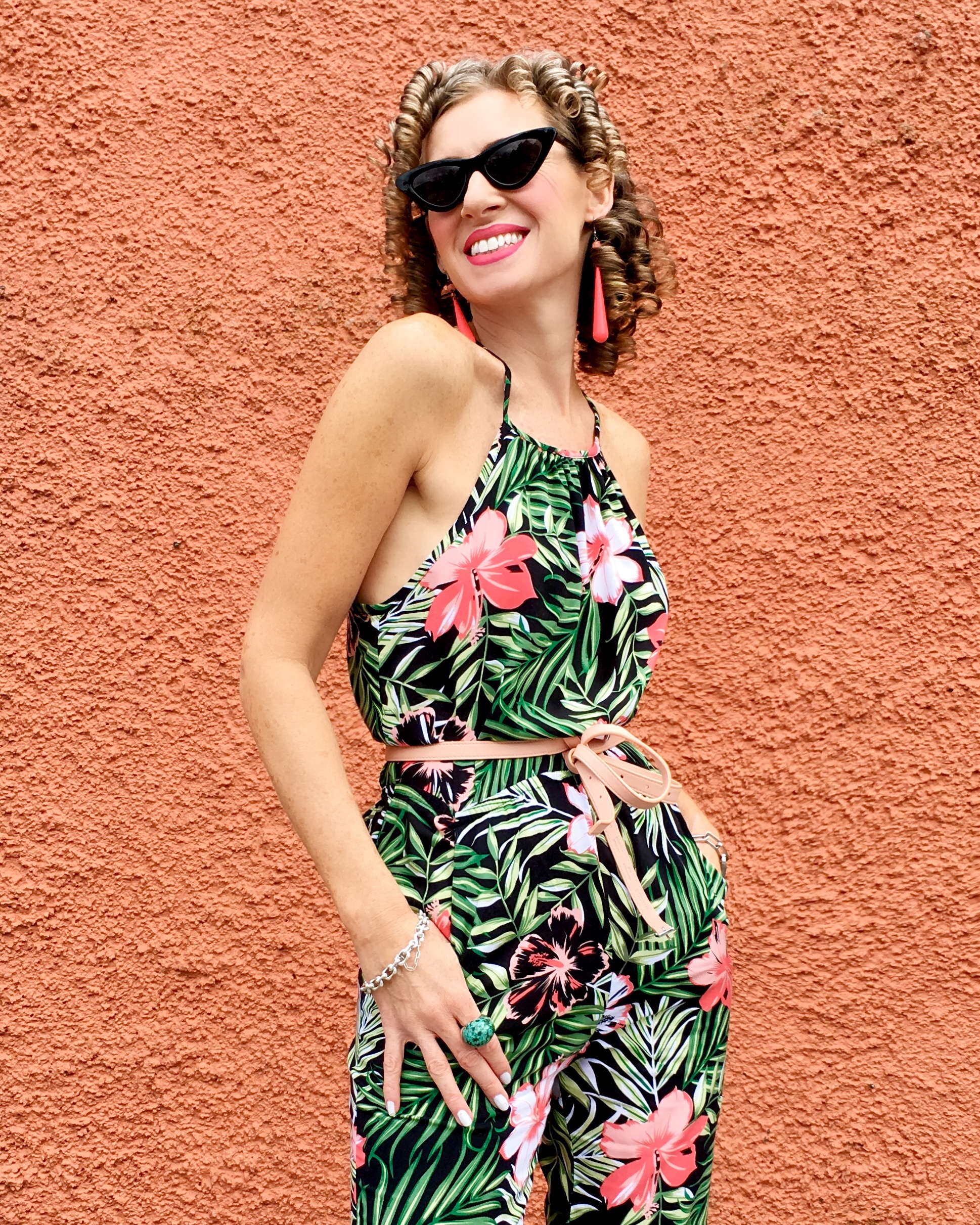 This popular style is selling out fast, so please, don't miss out - click static images to shop!
Due to the high, almost halter-style neckline, I've paired with large drop earrings in the coral colour of the flower in the print. I've kept the shoes to a simple black, platform sandal, but flats, wedges or trainers would work equally well. The bag is one of the most popular styles of the summer - the net tote. This one's a bit more practical, in that it has a concealed inner lining! The belt is a neutral blush/nude colour, but black, coral or green would work equally well. Shop similar options below to get the look.
~ Shop the Look ~
*Since publishing, this crazy-cool jumpsuit has been selling our super-fast, so I'm linking some other options - shorts and top in matching prints for that summer playsuit vibe, or trousers to mimic the appearance of the jumpsuit. But hurry! Clearly, this pretty print won't last long!
~ Beauty Notes ~
Keep hair natural by simply adding a serum to keep frizz at bay in the heat. Or if you're between washes, a topknot would show off this neckline and your earrings beautifully. A pop of bright coral lipstick unifies the look by echoing the coral earring and floral print. Skin should be exfoliated regularly in summer especially, and of course, moisturiser or a subtle tanner applies. And, if you're out in the sun, SPF 30+ is a must - you DO NOT want to burn or be stuck with these tan lines!
~ 360 View ~