More Summer Nights...
The Italian tradition of taking an evening stroll as the sun cools and thoughts of ice cold aperitifs begin has always appealed to me. I believe this fascination may have begun when I was a child when, as an extended family, holidaying on the beautiful, unspoiled island of Menorca, we would walk the length of the one and only street of our tiny resort, dressed to the nines in our summer finery! On our return, we would take up our position at the nearby Las Dunas tennis bar and enjoy a drink or two as the darkness descended on another idyllic day in that Mediterranean paradise.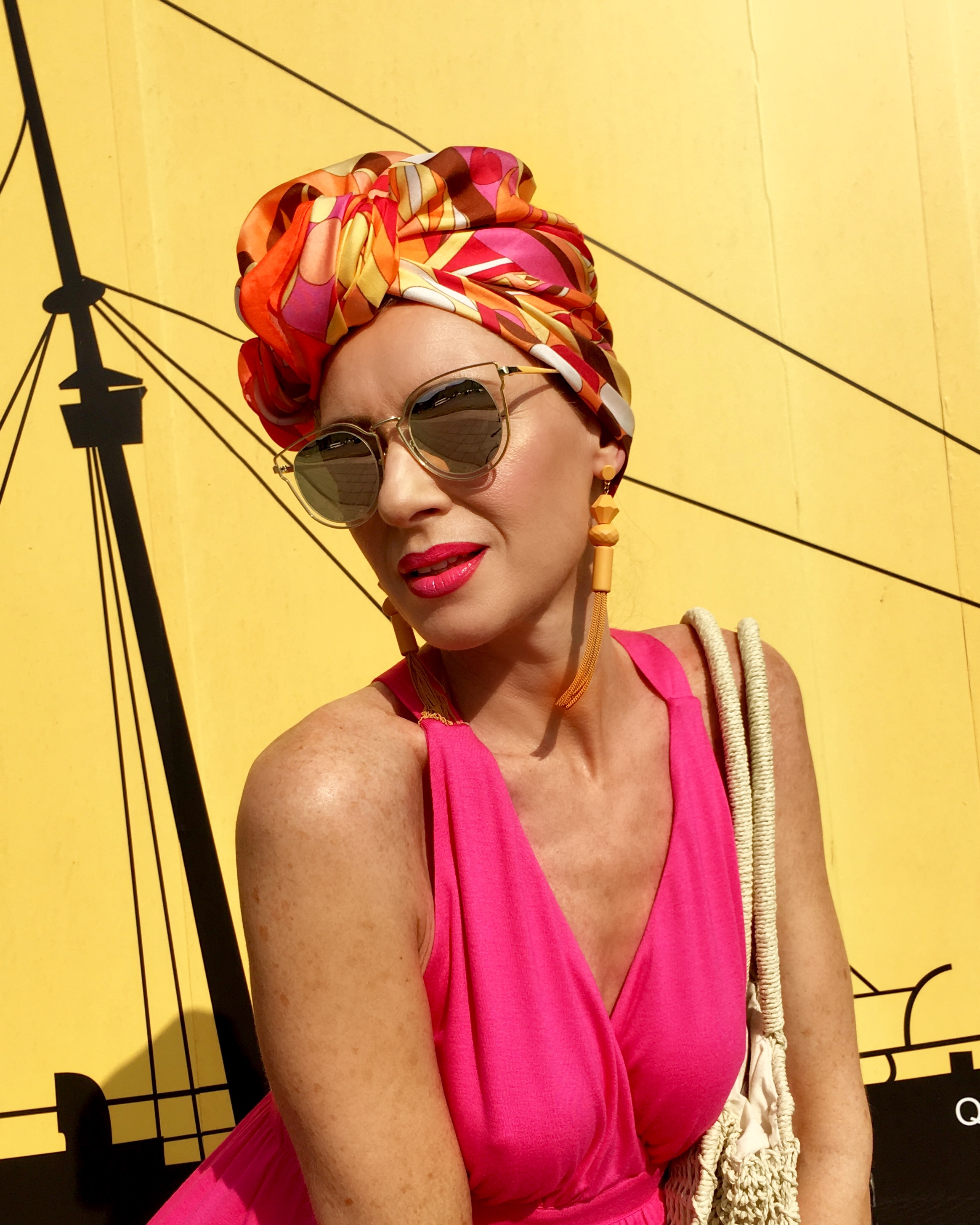 Of course the Italians do it best when it comes to dressing up and flirting during the golden hour. Flaunting their best new clothes and über stylish children is almost a national sport for them! But I like to think I learned a thing or two back in Menorca!
Style Notes
I've taken this simple, self-coloured Peacocks dress and styled it with key accessories to elevate the look and add a glamourous edge. The head wrap is a statement in itself (and ideal when humidity is playing havoc with your locks)! I've used a square scarf, in a complementary palette of juicy pinks, yellows and oranges to zing against the dress and introduce some pattern. Statement earrings pick out a colour from the head scarf and gold shoes and sunglasses add shine.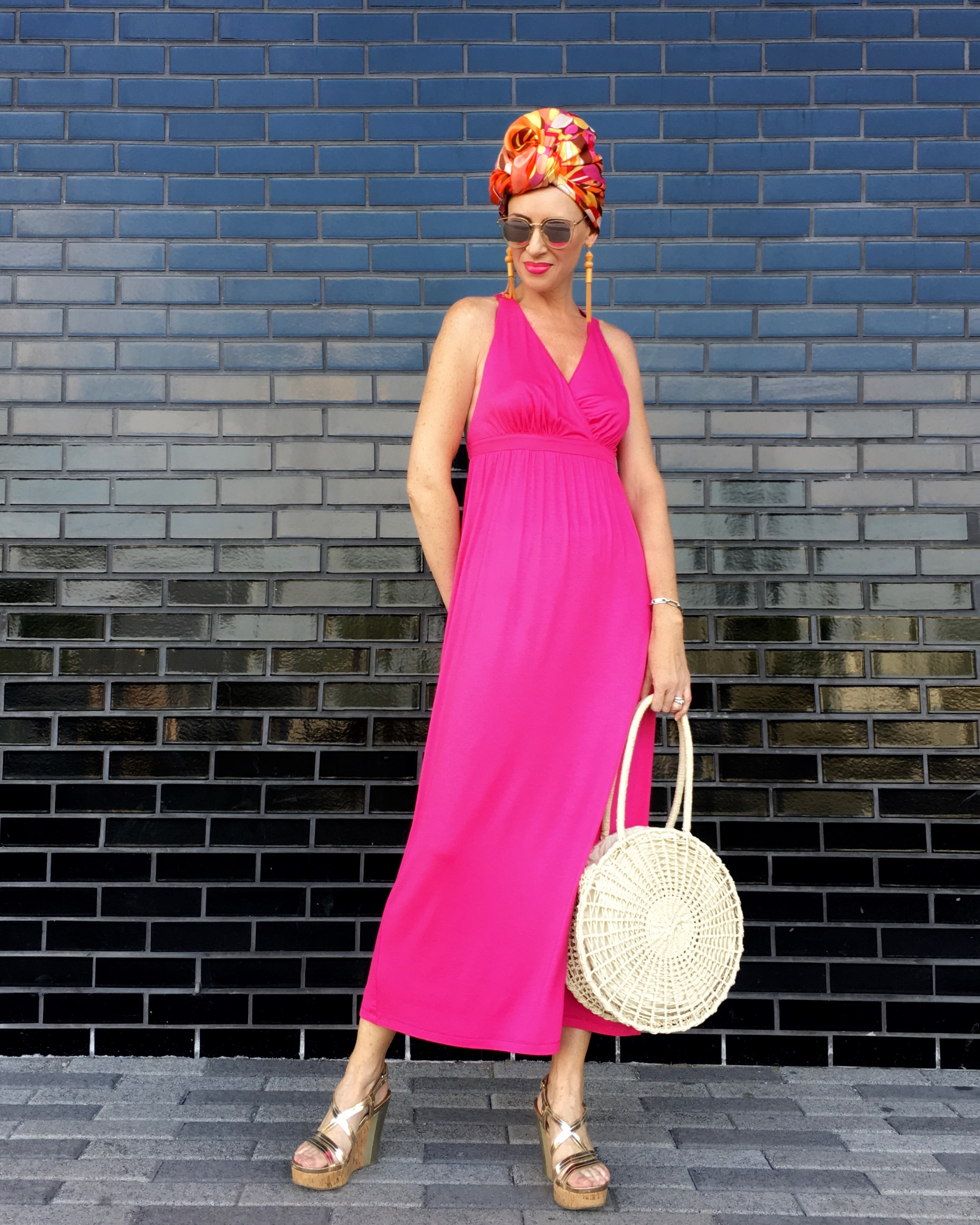 Clearly, flashing the flesh is not for everyone, but a little bit doesn't hurt, right? I love that this dress is modest in the front, while the back is almost totally naked and there's even a little side boob going on! Be sure to exfoliate and apply lots of moisturiser (and high factor sunscreen) before you jet off and while you're away to keep your skin in good condition. And PLEASE, stay out of the midday sun! Be sunsafe.
Beauty Note
It might be sweltering hot, but that's no excuse to shirk your beauty routine. If you're a makeup wearer, be sure to cleanse thoroughly before and after applying makeup to ensure any excess sweat and oil are removed. You may want to use a lighter foundation or replace it altogether with a bronzer (I like Vita Liberata Trystal Minerals Bronzer) or a clear powder, like Daniel Sandler Invisible Blotting Powder or Makeup Revolution Luxury Powder in Banana. For nighttime summer skin, I like Clinique Almost Powder in a darker shade than I usually wear in winter (No 4). Of course my feline flick is a must - I wear Rimmel Glam Eyes in Black - and a pop of bright lippy always makes me look more awake and feel more glamorous. Here, I'm wearing 3 different lipsticks (not all of which are still available) but the base colour is No. 7 Stay Perfect in Pink Blush. Top Tip: dab your ring finger on your lipstick and blend on your other ring finger, then apply to the apples of your cheeks for a subtle and uniquely-matched rosy glow!
~ Shop the Look ~
My head wrap is an LK Bennett scarf I've had for ages, so I've linked a couple above with similar colourways. Sadly, the maxi dress had already sold out when I went to link it here, but this shorter version from Peacocks is a really pretty alternative. My sunglasses are Sojos Vision - available from Amazon - and my earrings are sold out from H&M, but these cuties from Claire's are only £4 and a similar colour. I'm in love with this round basket tote from Topshop and the black is now on sale!