London Fashion Week | Day IV
LFW | Day IV | Fashion Week Just Got Seriously Addictive!
I have dreamed of attending Fashion Week for as long as I can remember. So by Day IV, I was having so much fun, I began plotting my return in February for AW19. Now I just need to figure out how to get to NYFW, then Paris and Milan! As I said, seriously addictive!
And so to my final day at Fashion Week. It began with that most creative of shows - The Graduates!
This exhibition of the brightest and best BA and MA graduates from 2018 did not disappoint. Sometimes graduate fashion can fall on the crazy side of creative - a wacky, zany experiment that would only every have to be tamed before being unleashed in the commercial world. But these students had an eye on the end game and a sense of the wearable, balanced beautifully with a creativity that was unparalleled by anything else I'd seen during the previous 3 days… well, except perhaps, Pam Hogg!
Opposite: Jacaranda Brain, Nottingham Trent University
Winner of the Visionary Knitwear Award
Edinburgh College of Art
Winner of the Dame Vivienne Westwood Sustainable & Ethical Award, M&S Womenswear Award and the Catwalk Textiles Award
Spiky mixed textures in warm copper tones, punctuated by lacy black tracery, combined to create gowns of exquisite beauty that hinted at a glamorous 80s aesthetic.
Beijing Institute of Fashion Technology
Winner of the GFW Swarovski International Fashion Award
This elegant outerwear would not look out of place in a celebrity blogger's feed right now. Mixing smart tailoring, utilitarian backpacks and belt bags in rich primary colours with cloche-style old-world millinery, this collection is winter-ready and oh-so-now!
The Swedish School of Textiles
Leather, colour and corsetry have always been a fascination of mine and this collection had them all! While I'd probably stop short of the breast cut-outs (!), the sleek, black trench was otherwise utterly wearable!
Pinky-lilac leather ruffles, edged in bright lemon, white and mulberry was the most striking of the 3 looks, but the white, mixed-texture corset dress had to be my favourite. A little risqué transparency, a hint of Victoriana in the high neck and ruffles and a splash of leg - totally me!
FAD International Academy India
Rich colours and an eclectic mix of print and pattern dominated this collection. From bright jade silk, highlighted with eye-popping scarlet, to deep French navy, embroidered with fiery dragons and gold threading, this was a luxe mix of perfectly wearable pieces.
Arts University Bournemouth
Winner of the GFW Christopher Bailey Gold Award
Having the chance to meet Rebecca and discuss her inspiration was a rare privilege indeed! Her award-winning collection draws influences from the Victorian working classes - what would then have been signs of extreme poverty were elevated into luxe, urbanite detailing - from the patchwork pockets to the frayed knitwear hems and deliberately crude over-stitching.
A muted palette of earth tones and faded blues, greens and oatmeal referenced the past dreariness of the workhouse, while mismatched buttons took on a decorative appearance on waistcoats and jackets.
Edinburgh College of Art
Top 25 Graduates at Graduate Fashion Week
Wow! That was my reaction to this decorative, and highly inventive collection. You will no doubt be aware of my love for bright colours, gemstones, embellishment and unusual fabrications (I must've been a magpie in a former life), and these looks were bursting with all of the above.
A rich raspberry hue imbued all of the pieces; one top, encrusted to overflowing with beads and paillettes, resembled a big bowl of summer berries. Decorative, laser-cut folds of what appeared to be rainproof latex, formed an overcoat, while a studded, striped crop top would look fabulous dressed down with leather leggings! Yes please!
Ravensbourne University
Top 25 Graduate Fashion Week 2018
I love the creative utilitarianism of these looks - they inspire me with the image of an urban cowboy from the future!
The hoops of looped and printed fabric, reminiscent of a lasso, add visual interest and the matching, printed sock-boots look delicate, but cohesive and fabulously comfortable.
Tailored, pinstriped backpacks and origami-style fabric folds offer the future city-commuter an abundance of storage-on-the-move, convenient for traversing any busy metropolis.
Although they're technically menswear, there's an androgyny to these clothes that makes me want to try them on and style them for the futuristic urban cowgirl in me!
Nottingham Trent University
Winner of the Visionary Knitwear Award
Jacaranda's funky leotard-cum-playsuits were some of the coolest and most incredibly innovative pieces I saw all week! I just loved the 3-dimensional textures and the bright, white colour of the yarn. Of course I might not feel the need to wear the modern-day take on the balaclava, but I'd certainly try the other pieces and have LOTS of fun styling these up!
London College of Fashion
Another sober palette, this time in tones of rust and mink, were woven into this collection of polo neck knit dresses and laced up tapestry tabards that were layered over top to create an almost ecclesiastical robe-effect.
Cake Break with Danielle!
After a whizz round the rest of the BFC show space, I caught up with the lovely Danielle [@fashionistabarbie] for cake and milkshakes at a nearby café.
Danielle and I had only met in real life a day or two earlier, but our shared passion for fashion, fun and, it turned out, CAKE, made it feel like we'd known each other for years.
Suitably refuelled, we set off for our next fashion adventure…
And so to 180 The Strand, the beating heart of Fashion Week. Here, Edeline Lee was showcasing her SS19 collection to a jaunty soundtrack that spanned the decades and spawned the mood! Dancers, not models, wore a beautiful mix of scarlet, emerald and toffee-coloured dresses, skirts and tops, peppered with bright white trims, ruffle details and spaghetti straps. A body-flattering mix that was utterly wearable.
Being a dance extravaganza had it's challenges - with the low light and constant movement, many of my shots were blurred and unusable, to say nothing of the difficulty of getting a clear view! To that end I've scanned my videos to create stills of every look, every jump, gesture and backflip! See the collage below which I hope is as different as the show itself.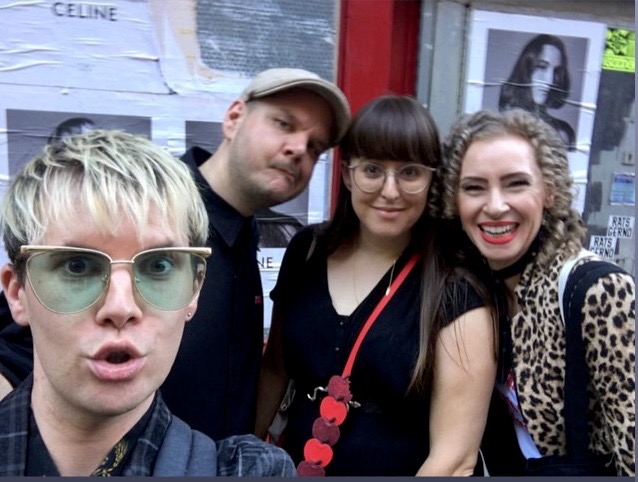 After the Edeline Lee show a little diversion was in order. So, having met up with Aaron [@aaronmarkstyling] and Ross [@fashionworked] we headed to Greek St where we lusted after several items at a pop-up shop, featuring some super-creative designers, like Hoh Pabissi... there may have been some trying on, group selfies and an Aperol Spritz or two!
This was my final show of Fashion Week. The crowd was abuzz with excitement. Reality TV stars peppered the crowd as the music started and models strutted down the runway in body con prints and tulle transparencies.
Yet again, there appeared to me to be an 80s influence to many of the looks - in the Versace-esque-printed lycra, strong-shouldered leather and graffit print oversized jackets in particular.
Photo credit: Jean Luc Brouard
Photo credits: Jean Luc Brouard
My final comment is a sincere note of thanks to everyone who helped make this incredible experience possible. To Wendy Gilmour [@thankfifi] for generously sharing her PR contacts with me and encouraging me to go and enjoy it! To Pop PR, Fashion Scout and Lily Ravas Brand Management for inviting me to attend the shows, and trusting me to promote and share the incredible fashion I enjoyed. And, of course, to my sweet, loyal and supportive husband for his unwavering patience and for indulging my every fashion notion (and carrying my suitcase)!
So, that's all folks, as they say, until next season. If you have any questions about going to the shows, feel free to leave a comment below, or check Days I, II and III for my handy tips!
Thanks for reading. Much love,
Nx