Sugar Coated!
If you buy one piece of outerwear this season, make sure it's P I N K !
The pink coat has been a wardrobe must-have for several seasons, and there's no sign of that changing... My advice: invest now, while winter coats are on sale, and summer blazers offer a lighter take on candy-coloured cover-ups!
#Obsession
At the risk of sounding like a borderline obsessive, I had thus far acquired 2 coats, 2 blazers and 1 furry bomber jacket in various shades of sugariness!
Check this out!
Now, my latest acquisition is this double-breasted checked number from Topshop, taking the coat count to 3! Unsurprisingly, being on sale for just £45, it sold out a few days ago as I shot the images for this piece, but they've recently restocked limited sizes, so click the image links to shop before it goes for good! If you're too late, never fear! I've also linked a load of other delectable beauties below! ~ Scroll down to shop them ~
Blossom baby!
These budding blooms were begging to be photographed! I've been enjoying everyone's Insta-blossom posts, but there's nothing quite like shooting your own! Still early days, so hopefully I'll capture more sumptuous blossoms shortly...
Double up
This coat is technically double-breasted. I used to avoid the double-breasted coat or jacket because they only really worked when all buttoned up, and let's face it, one needs a bit more styling versatility! Nowadays, however, the cut is usually a little neater, meaning it's easy to wear open, as below.
City Slicker!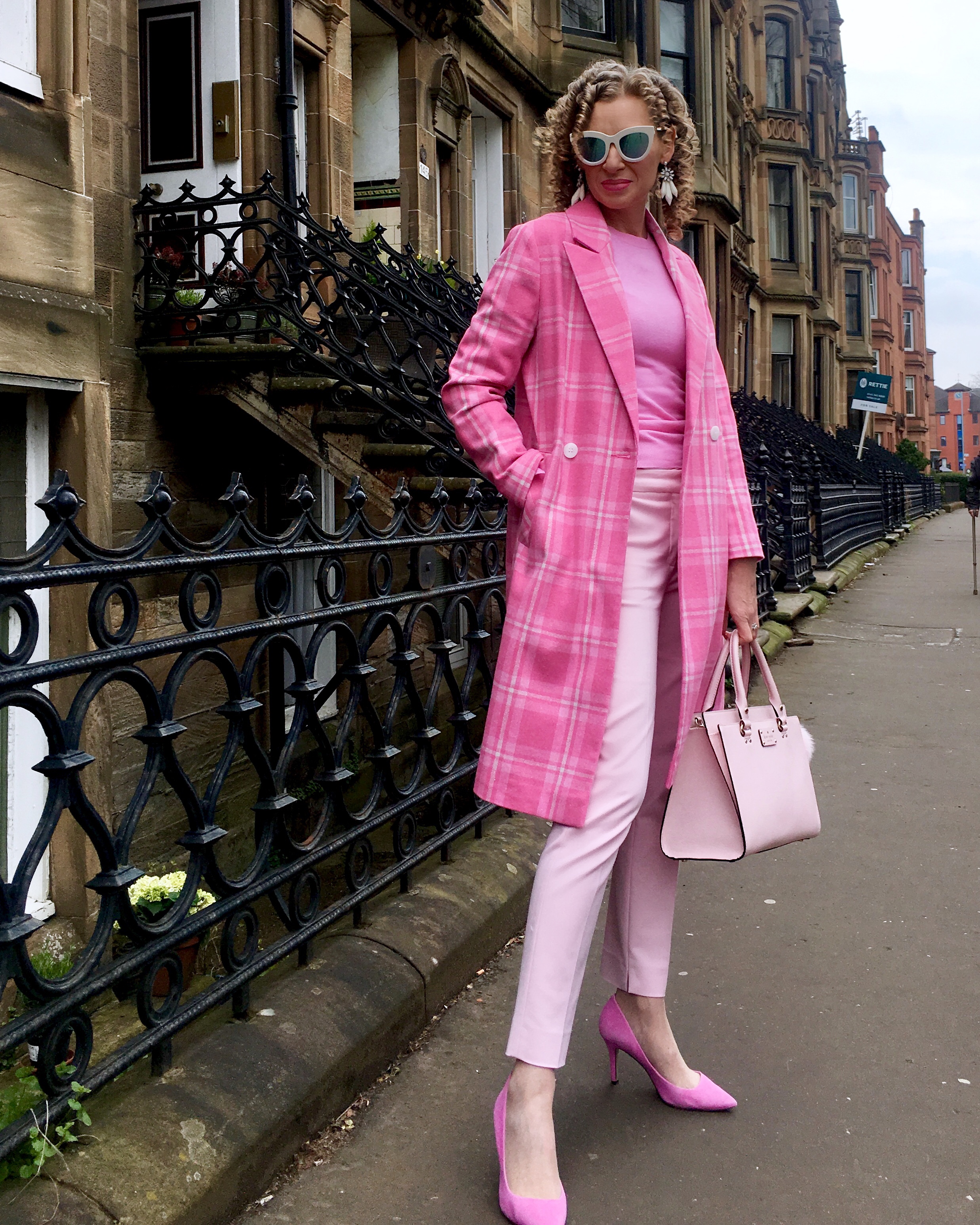 I think this piece is perfect for spring/summer in the city. I can imagine throwing it over a bodycon dress with sneakers or a cami and jeans for a girls lunch. Equally chic would be a white, summer suit with the coat shoulder-robed as back-up against the unpredictable British summer. [For more ways to wear white tailoring see my All White Now post].
Gimme details!
Clearly I'm a sucker for pink, so for me this coat looks great when layered with tonal tints of even more pink! However, it looks just as good with blue jeans and a simple white t-shirt.
Click to shop my favourite pink coats and jackets available now!
With spring taking so long to bloom, it's actually a great time to pick up some pink outerwear. From the on-trend trench to the beautifully chic blazer, there's a look to suit every taste. I'm especially intrigued by the transparent trench coat that ticks three, key trends of the season in one go (plastic, transparent, amped-up trench coats) and lets you show off your best outfit, even during a downpour!
Please share your favourite way to wear a pink coat in the comments!
Thanks for reading!
Nx