Trail Blazer
3 Ways to Style a White Blazer
Part I: With Denim Cutoffs
Every woman should have a white blazer in her wardrobe. Sartorially speaking, it's her best friend - it reflects light onto the face and well-cut tailoring sharpens any look. Downside? You'll be on first name terms with your dry cleaner!
In terms of sharpening a look, serious case in point: cutoff denim shorts! Often the preserve of teenagers and beachgoers, they exude rebelliousness, but in the presence of a white blazer, they can look chic, modern and fun.
Style Notes
I've chosen a simple palette of black, white and blue denim, with a cascade of pearls to add interest and movement. Black or white denim cutoffs would work well too and the monochrome effect would serve to smarten the look even more - think Chanel-o...
With these frighteningly short shorts, I feel it's important to redress the sexiness balance by adding a super-chunky shoe. Here, I've selected my new Stella McCartney Elyse flatforms, but a tall wedge or mannish brogue would work equally well.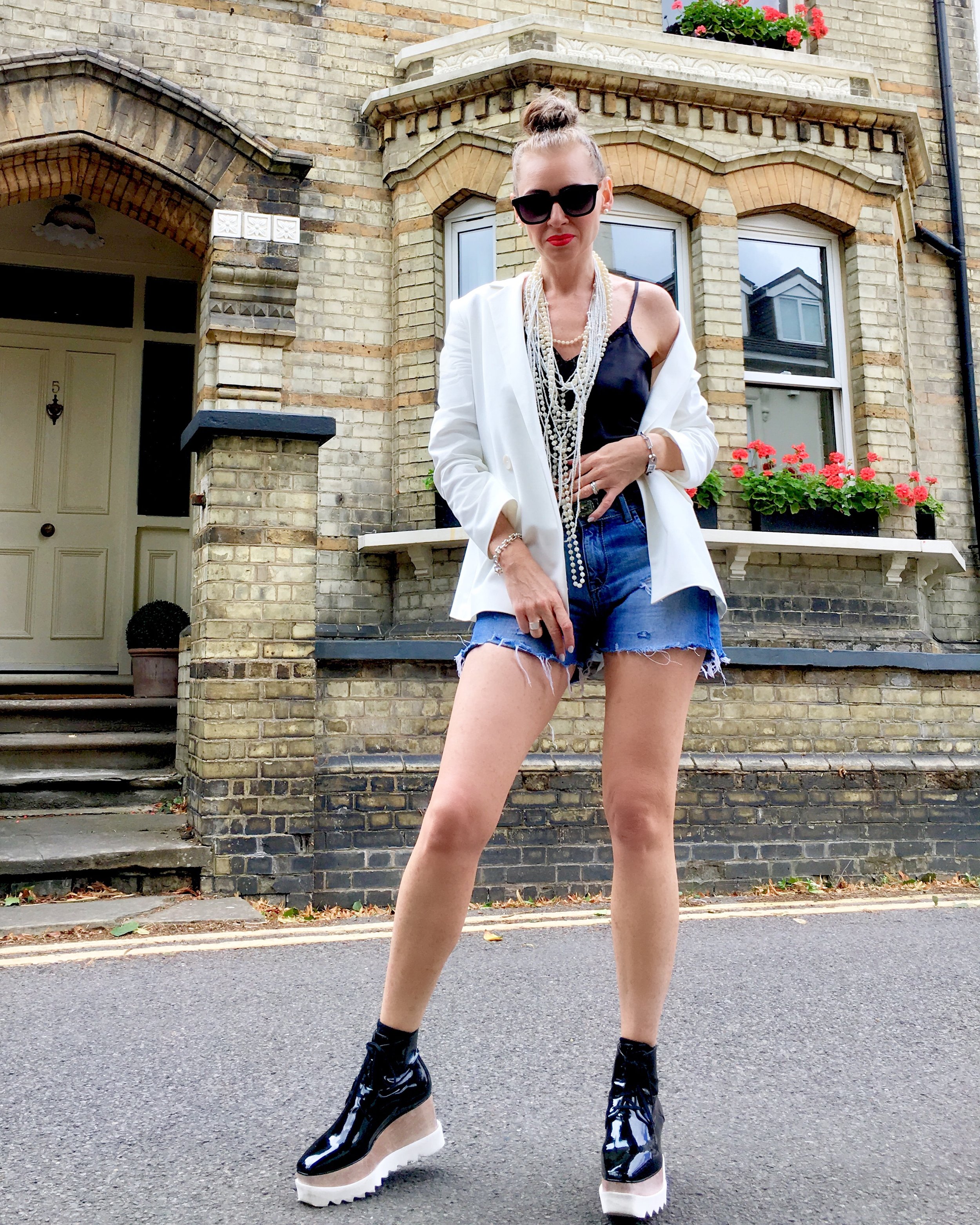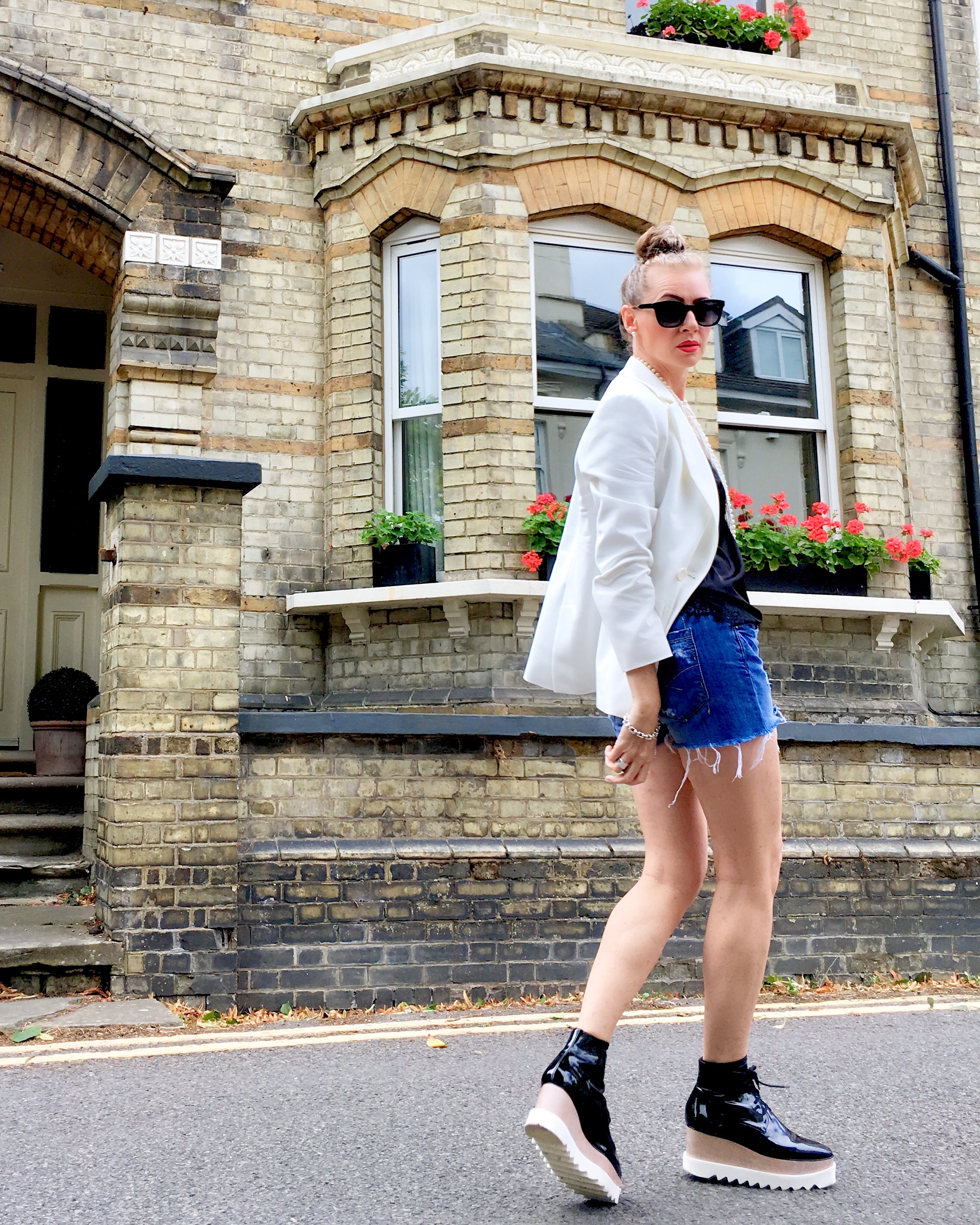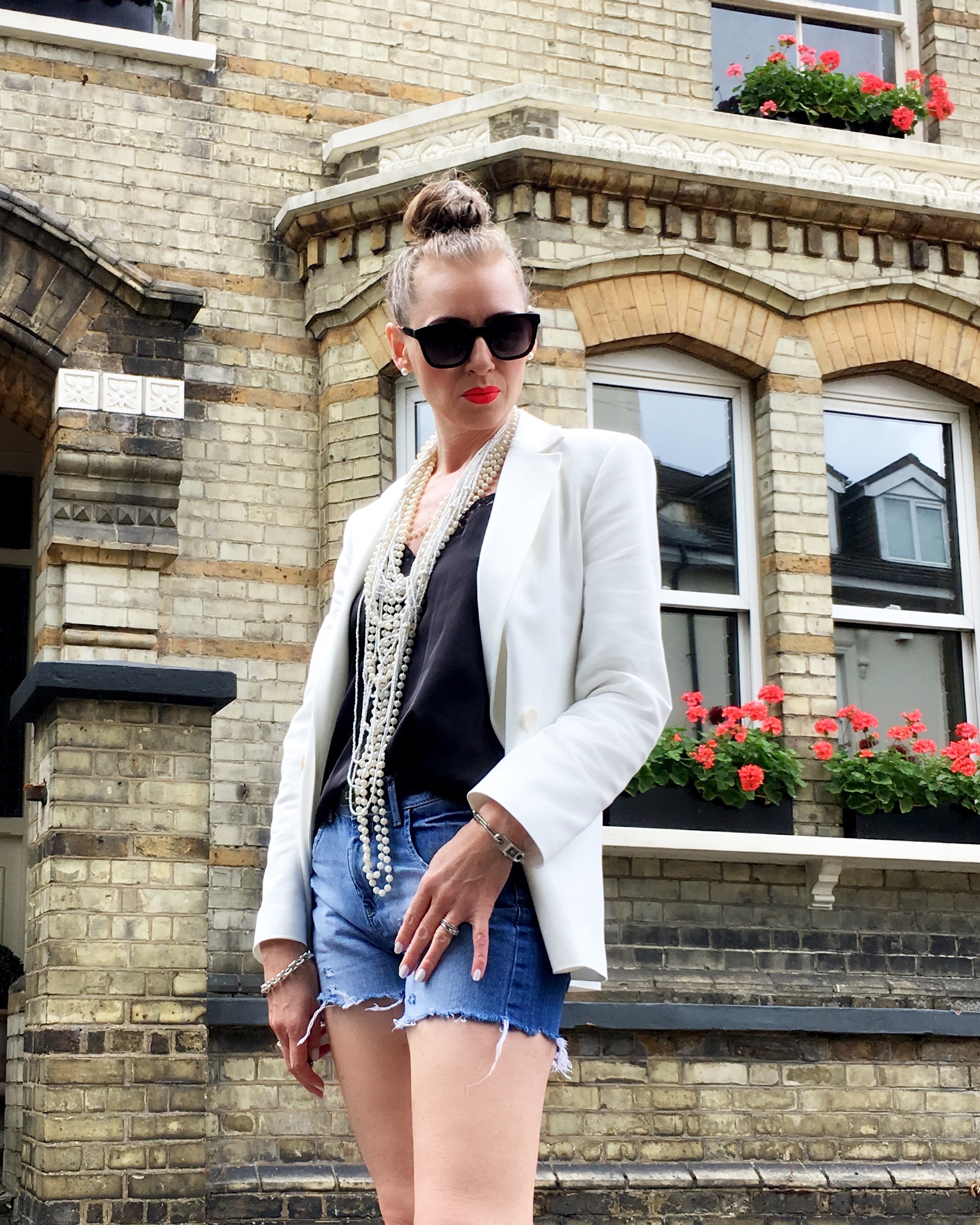 I think the best, most authentic-looking denim cutoffs are the ones you make yourself from well-worn, much-loved old jeans. I particularly love stealing my husband's old jeans (he wears away the pockets really well and they have that relaxed fit that looks more cool than trampy)! These are Zara jeans than I cut down and distressed myself, but if you want a quick fix, shop my pick below.
These Sojos Vision Wayfarer-style, black sunglasses are a classic shape that never dates. I like that they feel a little bit 'old Hollywood' and add a little class to my style mash-up.
White nail polish can look super-chic in summer, especially with a tan or darker skin - while that rules me out (!) I still can't resist it. Mine is Revlon.
My blazer was a summer sale steal from Zara, now sold out, sadly. But I've found an excellent, reasonably priced alternative here but be quick - it's selling fast. Below are some other High St options in various styles and shades of white - the warmer, creamy-toned Zara option, far left, would be the perfect autumnal alternative paired with a cream-based leopard print. Click images to shop.
~ Shop the Best High St White Blazers ~
My multi-strand necklace is all one piece (very easy and quick to put on)! However, it's years old (Topshop) and the best suggestion I've got, having searched for similar, is to layer up several, like these linked above... or make your own!
Modern dressing is all about the high-low mix - that is high street and high end. It's no secret I love my designer pieces as much as the next fashionista, and my Stella McCartney boots are no exception. However, I found my patent ones at a sample sale recently, and got them for a fraction of the original cost. Sadly, these star-printed ones are eyewateringly expensive (sorry)! In my defence, they are super-comfortable (very bouncy and cushioned with the tall flatform) and they look great with many more outfits than I thought they would, so if you think in terms of £ / wear, they are a bit easier to justify!
So that's look number one. Tune in soon, for my next instalment - you won't want to miss it!
How would you style a white blazer? Let me know in the comments below.
Thanks
Nikki x