Trail Blazer - The Finale
Having styled my white blazer with a dress and shorts in the previous posts, it seemed appropriate to pick trousers for the final look. Having said that, I literally vacillated for about a week between these, a couple of maxi dresses, palazzo pants and denim overalls - such is the versatility of this exceptional wardrobe staple.
~ Style Notes ~
Given my return to Glasgow and the dip in temperatures that has accompanied me, I settled on this look - easy, comfy and perfect for the transeasonal feel in the air. I picked a cool-toned palette, and you'll notice that the checked trousers have a lot of white in them, helping to draw the whole look together. The 'band tee', or logo t-shirt, that I've chosen is by Fender from TK Maxx (an old one of Mr O's that was too small, I've linked a simple alternative below). I've knotted it in front to minimise the volume (and even show a sliver of midriff) and again, being tonal, it keeps the look smart enough for a casual Friday at the office or a Saturday running from errand to errand. Speaking of running, these sneaks, which were an emergency purchase when my trusty Nikes finally fell apart, are just £12 from Primark. I couldn't find them online to link for you, but I must say they are super comfortable and bouncy, so check in store - who knew £12 shoes could do all this?!
Simple Tweaks for a Night Out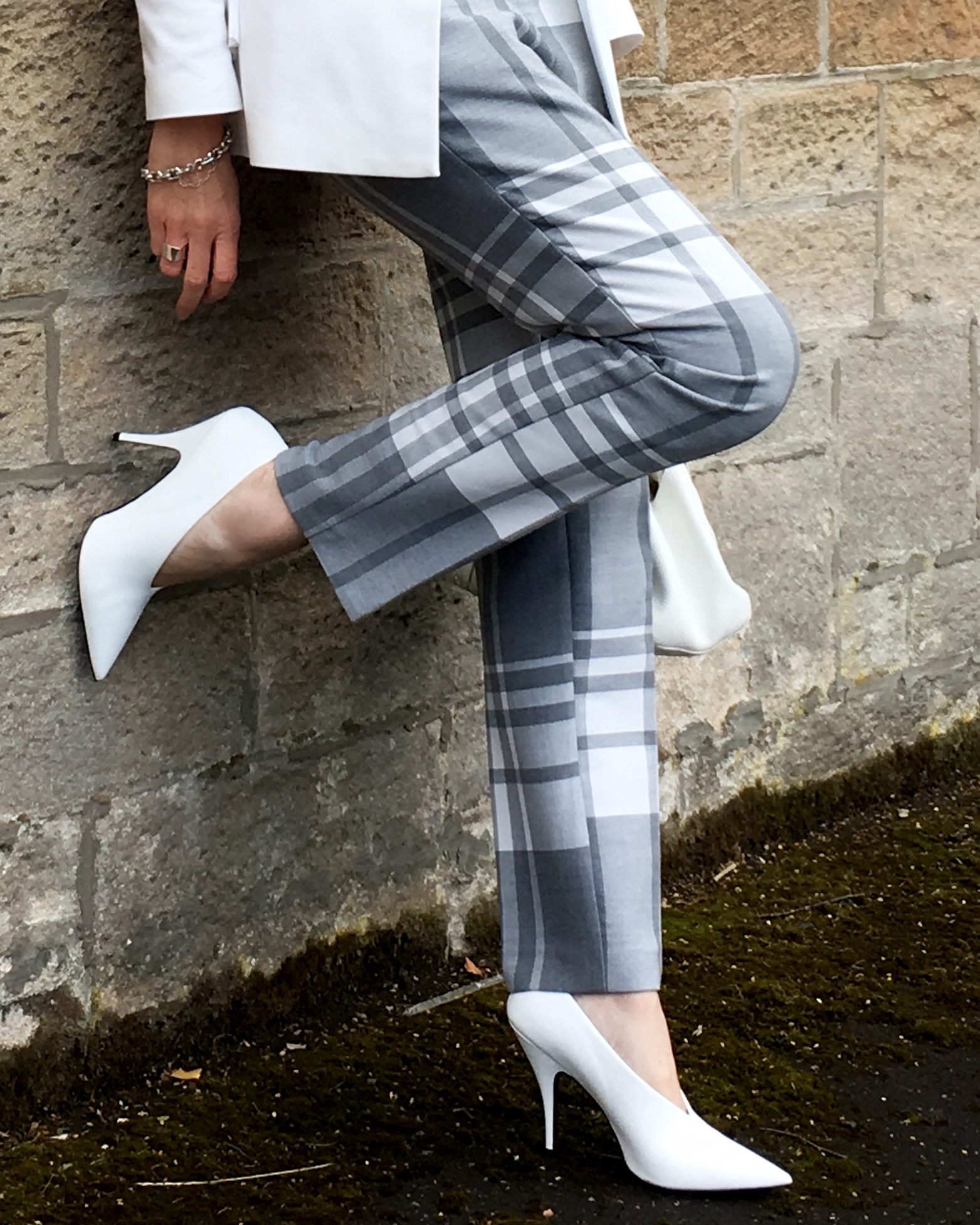 By changing the top to a scoop-neck body, swapping out the sneaks for heels and the tote for a smaller handbag, I've transformed this look from Saturday runaround to pre-dinner drinks with the girls or date night with your beau. Again, note the use of white to keep the look light, fresh and just this side of summery! These stand-bys could be stashed in a tote under your desk to ensure you feel fresh and glamorous should the need to go from boardroom to bar crop up! Come winter, swap out the neutral white for black leather options and you'll be year-round ready to power through til home time.
My trousers are River Island, but they're old, so I've linked a couple of alternatives for you below. My shoes are Stella McCartney, and while I believe there are still some sizes left in white, I've linked the grey option below, also super-chic. I've also found some great white heels on The Outnet, one of which I've linked for you. Click the images to shop these pieces directly.
~ Shop the Look ~
I've stuck to neutral makeup as I wanted a natural, everyday look that would work for the office or a busy Saturday of errand-running. A bright red lip would elevate this look even more - perhaps stashing one in your emergency 'under the desk kit' is in order. I like No 7 Stay Perfect in Gay Geranium or Brick Red.
Back to the neutrals! I've been painting on this ombré lip for as long as I can remember. It consists of 2 lipsticks and an eyeliner and a good quality lip brush is essential to perfect the blend. All the products I've used here are Rimmel - apply a base of Lasting Finish by Kate in No 45, then line with Rimmel kohl eyeliner in Rich Brown (I think they've discontinued it, so Sable brown will work too), then blend the liner in with a lip brush, and finally apply a pop of Lasting Finish by Kate in No 40 to the centre part of your lower lip. It might sound like a lot of work, but it will last all day when blended properly! Keep the rest of your makeup simple - I've used Almost Powder by Clinique in No2 as my base, I've added a pop of Pot Rouge by Bobbi Brown in Rose Blush to my cheeks and my trusty winged liner is Rimmel Glam Eyes in Black.